Standard Spiral Wound Gaskets
Basic Style Spiral Wound Gasket
Our Gaskets are for use with male & female and tongue & groove ASME B16.5 & BS1560 flanges, Spiral winding only, containing preformed metal and soft filler material, inner and outer diameters of winding are reinforced with several plies of metal without filler to give greater stability.
Our standard Style gaskets are manufactured to nominal thickness of 0.125" (3.2mm); 0.175" (4.5mm) on requirements.
There are three types of Spiral Wound Gaskets:
> Style R1 indicates gaskets for use with large male and female flanges;
> Style R2 indicates gaskets for use with large tongue and groove flanges;
> Style R3 indicates gaskets for used with small tongue and groove flanges.
Ordering information:
> ID and OD dimensions (tolerance)
> Thickness of gasket
> Winding and filler materials
> Pressure rating.

---
Spiral Wound Gasket for Heat Shield
Mica Spiral Wound Gasket
Spiral wound gasket for heat shield is outstanding fire resistance. Combination of graphite filler and mica layers give superior fire safety.
Layers of pure mica protect graphite filler and resist oxidation. It is a good choice for plant steam drums, hydrocarbon catcrackers, hydrogen units, and exhaust manifolds.
Spiral wound wires, available in most commercially available metals. Rings of any standard metal.
Specifications:
Temperature, max.: 700oC
Flange class: 150 to 600 lb.

---
Manhole & handhole Spiral Wound Gaskets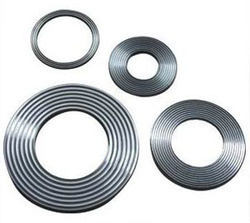 Manhole & Handhole Spiral Wound Gasket:
Spiral Wound Gaskets for manhole and handhole, tubecap etc. our anticipation of developments in modern steam generating and engineering equipment and ability to design to specific requirements are the guarantee of the perfect seal at minimum maintenance cost with consistently high standards of performance.
Prime feature:
> Compression loading proportional to safe stress of cover assemblies;
> High safety factor related to specific operating conditions;
> Resilient under concentrated and fluctuating loads;
> Prolonged trouble-free service;
> Reduced seat cleaning time.
Range of Spiral Wound Gaskets
Obround Spiral Wound Gasket
Oval Spiral Wound Gasket
Pear Spiral Wound Gasket
Diamond Spiral Wound Gasket
Rectangle Spiral Wound Gasket

---
Spiral Wound Gaskets for Heat Exchanger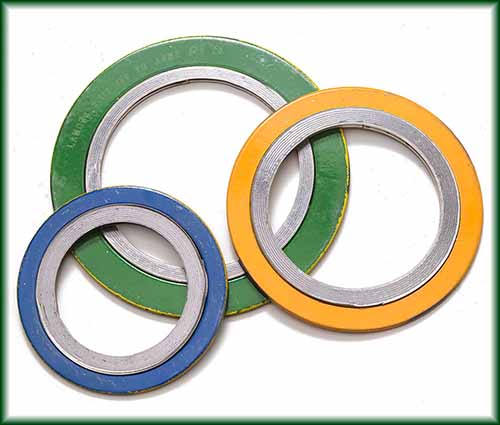 Spiral Wound Gasket for Heat Exchanger Code:
Spiral wound gasket for heat exchangers are designed for heat exchangers, it can be with or without inner and outer rings.This style spiral wound gasket is for heat exchangers where pass bars are required. The outer portion is of standard spiral wound construction. The rib portion is normally of single or double jacketed style.
Typical Applications
> The gaskets which with outer rings are primarily designed for TEMA male and female flanges.
> Gaskets are custom built to suit the design conditions of individual heat exchanger vessels.
Prime Features
> The outer wound nose to ensure correct sealing element location in the flange recess.
> A spiral wound sealing element to ensure a positive seal under fluctuating temperature and pressure conditions.
> A solid metal inner ring to protect the sealing element and act as a compression stop.
> Can be supplied with pass partition bars in any configuration. Pass bars are secured to the inner ring can be supplied in either solid metal or double jacketed construction.
Specifications
Spiral wound with inner or outer or with partition ribs acts a pass bars. Manufactured to customer design.

---
Low-loaded Spiral Wound Gasket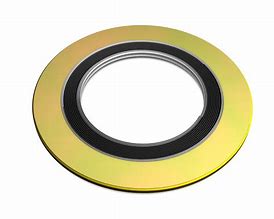 Spiral wound gasket with superior seal ability and low compressive load requirement.
Low-load spiral wound gasket compensates for weak flange designs, no unsupported exposed filler for ease of handing and installation, high tightness level achieved with minimal compressive load, complies with all ASME B 16.20 dimensions.
More details of Low Load Spiral Wound Gasket, please contact with us.